Welcome to the Preschool at Woodlawn!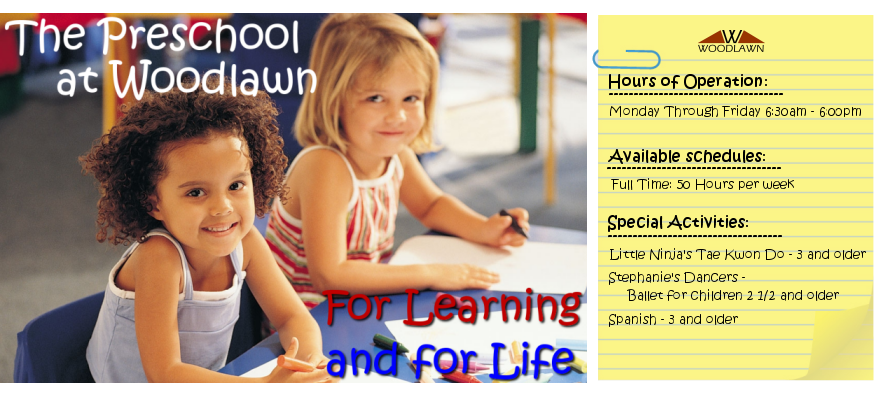 While at The Preschool your child will be immersed in quarterly magnet classes in Music and Movement, Art, Culinary Arts, and Math & Science Technology. Language development, and readiness skills will be woven into the daily curriculum in each magnet area along with physical education and drama.
What you want…
A safe and loving environment
The best teaching curriculum
Readiness for kindergarten and elementary
A child who is excited about learning and thrilled to come to school
Teachers and staff who will nurture your child and your family
What we do…
We make sure your child is safely in our care.
In addition to the best teachers, we provide cutting-edge curriculum, based on the latest early brain research. We use an exciting, interest-based, magnet approach with rich experiential learning focused on language development and school readiness.
We nurture your child's spiritual development with daily classroom devotions and weekly chapel services, using our "Jesus Loves Me" curriculum.
As a connectional church, Woodlawn promises to be your church and promises to nurture your child and your family for learning and for life.
What to do now…
We welcome your interest in our school and are eager to meet you and your child. Please contact Brenda Wallace, our preschool director, at 706-738-2546 or woodlawn.child.development@gmail.com to setup a meeting to learn more about our school and how we can help you and your family grow.
Call and speak with our preschool director Brenda Wallace ~ 706-738-2546